Samsung smartphones are great phones that most people would want to have; of course, one of the limitations of having one is the fact that most of the Samsung phones are quite expensive. This, of course, minimizes the chances of most people having one but it does not change the fact that it is a good brand as many people own this phone.
Every phone has a good side and a side that is not good at all. Samsung smartphones have not evaded this factor. Every brand comes with an advantage and a disadvantage. Most of the time the negative stuff about a phone will not favor the users, in such a case you will have to weigh your options and take the phone that has more pluses than anything else.
Samsung Galaxy S6 Edge
Advantages of Samsung Galaxy S6 Edge
One of the plus sides of Samsung Edge 6 is that it comes with the latest Android version. This improves its performance and makes it better than that of the previous Samsung smartphones that operated on older Android versions. The features that the lollipop version comes with are really excellent and give you the options of playing around with your phone to customize it as you would wish. It has more freedom that it gives to the user making it a fan smartphone to own.
The screen of Samsung Galaxy Edge 6 comes with a 6.1-inch size. This is great for displays that you may want to have and gives you a great experience with functions such as gaming. Something else is that the screen is super AMOLED capacity touch screen. This means that it offers faster reaction of the screen to touch, the contrast levels are high, the display is also clearer and the color production is also better. These are some of the best screen features that you can get on a phone and to make things better, the screen is curved on one edge. This gives you a stylish look with a phone that will make most heads turn.
A 3GB RAM gives the Samsung Galaxy Edge 6 a super fast speed. This is what makes Edge 6 the phone that does not hang constantly and gives you room to move from one app to another without straining.
It has a fingerprint sensor that enhances your Samsung smartphone experience when it comes to security. No more snoopers in your phone.
The camera will amaze you; it has a 16MP rear camera and a 5MP front camera. Edge 6 comes with the best camera among Samsung smartphones. This camera is able to stabilize images, has face detection ability and much more. The thing with this phone is that it gives you quality images that record all your moments just as they are.
A 3G and a 4G connectivity will enable you to stay connected anywhere you are in Kenya. It comes with speed and removes all the barriers that we initially had in terms of network connectivity.
Finally, the colors that this phone comes with will blow off your mind. Comes in a white pearl color, black sapphire, blue topaz, and gold platinum. The colors are simply amazing and make this Samsung smartphone stand out among most of its counterparts.
Disadvantages of Samsung Galaxy S6 Edge
Most Kenyans own a memory card irrespective of how large the internal memory of their smartphone is. The drawback of this Samsung phone is that it does not have a memory card slot. This may not go well with you if you may want to expand your memory. For those who may want to do this, too bad for you, Samsung Galaxy S6 Edge may not be the phone for you.
No FM radio, at this point you ask yourself how worse the situation would get with this Samsung brand. Kenyans love radio after their love for food, denying them the radio will make them say no to this phone. There is something with Kenyan phones with an FM radio; it is what most people want in a phone.
When we are having a problem with our phone, it is easier to remove the battery than wait for the phone to finish loading. This is a habit that most Kenyans subject their smartphones to. We also love carrying an extra battery in case the one that we have on our phone runs low on the charge. With this one you cannot do all that…… if you are asking the reason as to why you can't do that, it is because the battery is not removable. There you have it.
Samsung Galaxy J1
This is the budget Samsung smartphone that you can have in Kenya. Really good and price friendly and one can get away with it at any day. Of course, it has a plus side and that other side that you will not love at all.
Advantages of Samsung Galaxy J1
Comes with KitKat Android version, it might not be the latest but it is definitely not bad for you.

It will give you a better experience that some of the older android versions
Samsung Galaxy J1 comes with the option of dual SIM cards. This is something that helps most Kenyans that have more than one phone combine all that on the same gadget. It gives you the freedom of enjoying what more than one of the service providers has to offer.

With its price, it supports most wireless connections such as Bluetooth, wifi etc.

this makes it possible to connect with friends and people around you with your phone.

An internal memory of 4GB RAM and an expandable memory of up to 128 GB is what may make you smile with this phone.

You no longer have to worry about where to store all your documents as they can all fit in your smartphone with Samsung Galaxy J1

The camera will offer you a great deal with the 5MP rear camera and a good 2MP front camera for the perfect selfies of all time.

The camera is an a capacity to have the face detection capability to enhance your camera experience.
Disadvantages of Samsung Galaxy J1
The RAM is just too low, currently, we are talking of smartphones with more than 1 GB RAM yet this phone has a RAM that is lower than 1GB. It limits you from having all the apps that most Kenyans enjoy as the speed is going to disappoint you.
The design of Samsung Galaxy J1 will put you off, if you love something that comes in a unique design that is sleek and stylish, this is not the phone for you. It has a boring design that is likely to face competition from other competitors in the market.
The pixel density is poor and that can guarantee you that you will have photos that are substandard and will probably disappoint you often.
The main thing that makes the Samsung J1 break your heart is the general performance; the general performance of this phone is not good at all. Thus, this phone cannot give you a smartphone experience that you may want to have.
Samsung Galaxy Alpha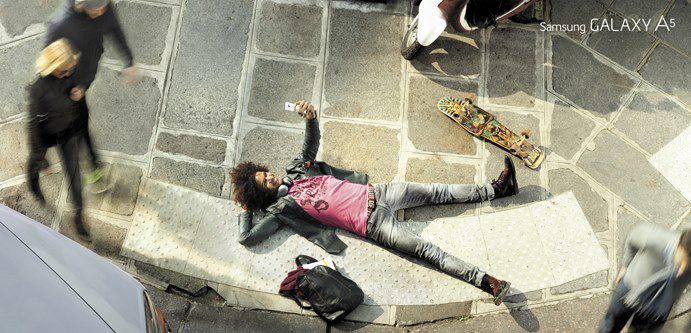 This is yet another production from Samsung that gives you a good deal with a smartphone. I think it is ideal for most Kenyans who want something new and something fresh. It has some good deals that will make you smile and others that will make you frown. Let us take a look at the deals on the table.
Advantages of Samsung Galaxy Alpha
Samsung Galaxy Alpha comes with a fingerprint scanner to give you the best security measures with your phone. This makes sure that you are the only person that can access your phone and it does not give room to intruders. More to this is the fact that it supports an ultra power mode that will extend your battery life giving you more time with your smartphone.
The camera is pretty awesome with a 12MP rear camera and a 2.1 front camera. Kenyans love taking photos and the phone that can offer this to them wins the price of the day. The high resolution in this camera ensures that you get the best photos and images of whatever you may want to capture. Other features such as smile and face detection makes the Samsung Galaxy Alpha the ultimate phone for you.
It looks stylish and for lovers of fashion, this smartphone will be your companion for a very long time. With it, the design is not boring and it offers you a gadget that complements with your style because of the various colors that it comes with.
A 2GB RAM is what will give Kenyans that don't compromise on speed the ultimate experience with their phones. This RAM supports switching from one app to the other in such a smooth way that you have probably not experienced. If you love having as many apps in your phone, this is the smartphone to grab.
The internal memory is really impressive. A 32GB internal storage ensures that you have all the space to store all your documents and you don't have to worry about deleting other files from your phone in order for you to save new ones. Samsung Galaxy Alpha has made it possible for you to have all your documents in the same location and gives you a large space to work with.
Disadvantages of Samsung Galaxy Alpha
Every coin has two sides and this is not an exception with Samsung Galaxy Alpha. It lacks an expandable storage. This means that you cannot store data that exceeds the 32GB capacity that comes with this phone. I think that this is a thumb down from Kenyans who prefer phones that have the micro SD card slot.
The range of this smartphone gives room for a phone that is water resistant but this is not the case with this phone. It is a major setback for a phone that has such amazing capabilities.
The screen is prone to scratches and this translates to screens that will get old quickly. The lack of a Gorilla glass feature is a major disappointment in this phone. We don't want a phone that will have a screen that looks like it is three years old.
The battery capacity of this phone will fail you at any day. It is too low to support a heavy user of a smartphone. This will call for the owners of Samsung Galaxy Alpha to have a power bank as their friend as without it, it may be hard to survive long periods of your phone usage.
Conclusion
With the above consideration of the advantages and disadvantages of various Samsung smartphones in Kenya, what remains is the weighing of your options. You will never get a perfect Samsung phone or any other smartphone for that matter. The only thing that one is left to do is to get a phone that has more advantages and pluses than one with a lot of disadvantages.  With that in mind, I still believe that the Samsung smartphone is still the best and cannot be beaten at any time. It is the way to go.